The Health Care Workers' Coordinating Committee brings together locals representing more than 60,000 members in Ontario's hospitals, long-term care facilities, CCACs and emergency services.
We are hospital dietary, service and maintenance workers, registered practical nurses, engineers, clerical staff, personal support workers, and ambulance and paramedical personnel.
CUPE's Ontario Council of Hospital Unions (OCHU) negotiates a province-wide central collective agreement with the Ontario Hospital Association. Outside hospitals, about 30,000 members are employed in long-term care facilities, as well as in community care access centres and agencies delivering front-line community care. HCWCC co-ordinates bargaining, and campaigns to improve working conditions and the quality of public health care.
November 2019 CUPE LHIN Sector Update
Members in Action: Health Care Sector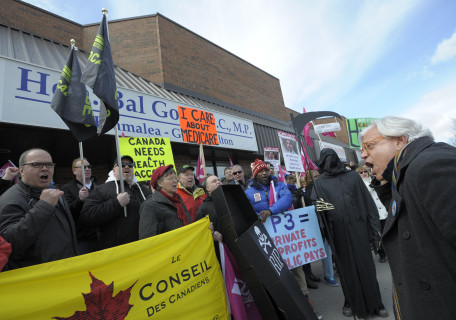 Since 1992, the complexity of care needs of Ontario's long-term care residents – the majority of who are 85 years of age or older – has increased significantly.
73 per cent of residents have some form of Alzheimer's or dementia and most need help with feeding, bathing, toileting and getting out of bed.
This is a notice that the Ontario Superior Court of Justice will hold a hearing to decide whether to approve Minutes of Settlement signed by the Crown, CUPE and the Representative Plaintiff in a class action about the transfer of certain CUPE members' pensions from OMERS and the VON Canada Pension Plan to HOOPP.
You should read this notice as it may affect your rights if:
You are an employee (or former employee) of a municipal service provider, whose employment was transferred to a Community Care Access Centre (CACC);
Your pension transferred from OMERS or the VON Canada Pension Plan to HOOPP; and
You were a member of a CUPE bargaining unit at the time of the transfer; or you became a member of CUPE after the transfer.
Download the Notice to class members re: Nov. 14, 2016 hearing date document
Download the Amended Notice of Settlement Approval Hearing document
Send us a message!
Send a message to the Ontario Health Care Workers Coordinating Committee – just fill in the form below and we will get back to you.