The Ontario Municipal Employees Coordinating Committee is a body of CUPE locals representing people who work for municipalities. We are 80,000 people who maintain roads, operate water and sewage plants, perform clerical and technical duties, install and repair traffic lights, deliver social services, maintain our parks, collect garbage and recycling, keep the streets clean and do many, many more things that make our towns and cities work.
OMECC keeps a close eye on collective bargaining, pensions, legislation and other political and social justice issues. We coordinate campaigns against concessions and contracting out, and give workers a voice in protecting the municipal services we all rely on.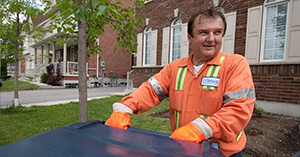 Help keep Toronto's Solid Waste Public
Keep Hamilton Transit Public
Stop the privatization of Hamilton public transit.
CUPE Ontario represents several thousand Library workers across Ontario. This committee deals with the important issues affecting library workers, including coordination of bargaining and provincial legislation.
CUPE Ontario represents thousands of electrical utility workers across Ontario who have fought back numerous attempts to sell off critical public services and infrastructure. Members continue to challenge the impacts of previous deregulation and privatization attempts and are fighting new threats to sell off public electrical transmission and distribution.
Handbooks
Legislation
Duty to Disclose decisions
Municipal Conflict of Interest decisions
Send us a message!
Send a message to the Ontario Municipal Employees Coordinating Committee – just fill in the form below and we will get back to you.