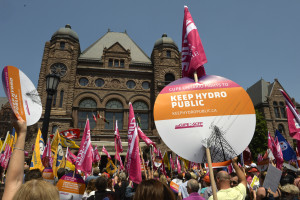 TORONTO, ON – More than one thousand people converged on Queen's Park Thursday afternoon, calling on MPPs to cancel plans to privatize Hydro One. The rally took place as the legislature began its final clause-by-clause review of the provincial budget bill, which includes legislation intended to make the sale legal.
"We are here to tell the Liberal government that Ontario opposes this sell-off," said Fred Hahn, President of the Canadian Union of Public Employees (CUPE) Ontario, one of the lead organizations hosting the rally. "Hydro One belongs to all of us, it is not theirs to sell."
Recent public polling shows that a huge majority – about three out of four – of those who are decided on the issue are opposed to privatization of Hydro One, yet the plan to privatize the utility is being rushed through in just a few weeks, and without public consultation.
"I'm astounded that the government would move to privatize Hydro One without even taking the time to properly consult the public," commented Alejandra Ruiz Vargas from ACORN Toronto, one of the speakers at the event. "We will lose public control of our electricity system and my bills will go up even more. I can't afford that."
Research shows that privately owned utilities have higher costs and charge higher rates than those that are publicly owned, even in regulated electricity markets. The province's top accountability officers – including the ombudsman, auditor general and financial accountability officer – have also raised concerns that privatization would end public accountability and take away their ability to ensure Hydro One is providing affordable, quality service.
"Selling off Hydro One isn't the right way to fund transit," stated Brenda Thompson of TTCriders, a transit users' group in Toronto. "The sale will leach revenue from public services and doesn't provide a long-term solution to our transit needs. We need a sustainable transit funding plan, not a fire-sale of a critical public utility."
Economic analysis by Douglas Peters, former TD Bank chief economist and Secretary of State (Finance) under Jean Chretien, shows that borrowing to build infrastructure would save $340 million net every year, compared to selling off 60 percent of Hydro. This is because the cost of borrowing is lower than the revenue generated annually by Hydro One.
"Selling Hydro One makes no economic sense, it makes no moral sense, and Ontarians oppose it," said Hahn. "We fought the P.C.s when they tried to privatize hydro, and we won. We'll use every tool at our disposal to fight this sale, too."
CUPE is Ontario's community union, with 250,000 members providing quality public services we all rely on, in every part of the province, every day. CUPE Ontario members are proud to work in social services, health care, municipalities, school boards, universities and airlines.
-30-
For more information, please contact:
Craig Saunders, CUPE Communications, 416-576-7316