Let CMHA know that targeting workers won't solve underfunding for mental health services
Led by CUPE 5258 president Kirk Hillier, the workers at the Canadian Mental Health Association, Haliburton, Kawartha and Pine Ridge (CMHA HKPR) got their first collective agreement in March 2016.
They hoped that by agreeing a very modest settlement, they could begin to address jointly with CMHA the long-standing workplace issues that prevent them from providing the best-quality mental health services for the region's residents – issues like high staff turnover, unfair workplace policies, and precarious work.
Two months later, Kirk – a housing maintenance worker with more than four years' service – was laid off. He was the sole employee affected by a cost-cutting measure that CMHA HKPR said was necessary because of a 1 percent wage increase agreed in the new contract.
The effect of CMHA HKPR's decision has created a tangible atmosphere of intimidation and mistrust in the workplace – exactly the wrong sort of environment in which to deliver good mental health services to vulnerable people.
Please sign the letter calling for Kirk's recall from layoff and urging CMHA HKPR to stop targeting workers and instead find real ways of improving mental health services in the region.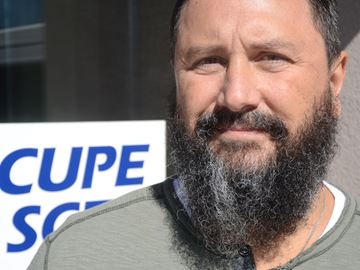 To the CEO and board members of Canadian Mental Health Association for Haliburton, Karwartha, Pine Ridge (CMHA HKPR)
I am prompted to write to you about the recent layoff of CMHA HKPR housing maintenance worker Kirk Hillier. The agency's treatment of Kirk has several distressing aspects:
The only CMHA HKPR employee to lose his job in the recent layoff was the president of Local 5258 of the Canadian Union of Public Employees (CUPE), which represents workers at the agency.
CMHA HKPR claims that, without this layoff, it can't afford the 1 percent increase in workers' wages that was agreed in March under the first collective agreement between the union and the agency.
In and of themselves, these are facts are worrying. But they also point to broader issues that concern me as a supporter of both workers' rights and high-quality community mental health services:
Singling out a local president – someone who has worked more than four years at the agency and who was active in starting the union at CMHA HKPR – strongly suggests the agency's management is trying to intimidate its unionized workers.
The quality of mental health services in the region is threatened because of the poisonous workplace atmosphere created by the actions of CHMA HKPR: workers can't deliver good mental health services to vulnerable people if they fear for themselves or their colleagues.
If any agency has to lay off one or more workers to pay for an extremely modest and long-overdue wage increase, it doesn't have a staffing problem – it has a funding problem.
If CMHA HKPR is serious about providing good-quality mental health services, it must
immediately reinstate Kirk Hillier and reject plans for any future layoffs among frontline staff
take a lead role in protecting the quality of mental health services in the region by restoring CMHA HKPR's working environment to one of trust and cooperation
join forces with workers and their union to demand adequate funding for mental health services for Haliburton, Kawartha, Pine Ridge.
For those measures, CHMA HKPR would have my unqualified support.
Sincerely,
Your Name