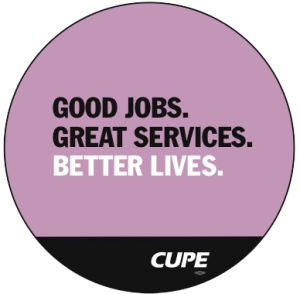 TORONTO, ON – Today, the bargaining committee for CUPE Local 416, the Toronto Civic Employees Union, reacted with surprise and disappointment to the news the City of Toronto has requested a "no board" report from the provincial Ministry of Labour. In response, CUPE Local 79 has also filed a no board request.
The City's move effectively starts the clock ticking toward a deadline for both locals when either side could legally cause a service disruption.
Local 79 President Tim Maguire said, "In reaction to the City's request for a no board at Local 416's table, we've decided to request a no board as well, as many of the cuts facing Local 416 are also facing Local 79 – we need to be addressing the same issues in a coordinated manner."
"Unfortunately, this is a continuation of the City's unhelpful approach to negotiations," said Matt Alloway, Local 416 spokesperson and bargaining team member. Since serving notice to bargain back in October, the City has been face to face with the Local 416 committee a total of 15 hours.
"It's no wonder the two sides are far apart – it's hard to reach a deal when the City is not in the room. Today shows clearly they are not interested in bargaining," said Alloway.
Both Maguire and Alloway said the City has tabled cuts that would affect literally every aspect of the collective agreements. "The last round of bargaining in 2012 was very difficult, with the city imposing a number of significant cuts. What the City has tabled this time would be much, much worse," said Maguire.
Both unions remain committed to negotiating fair, reasonable collective agreements that provide good, stable jobs that deliver great services. "No one wants a service disruption if it can be avoided," said Alloway. "But our members are very engaged and watching closely – and our bargaining committee knows our members will not accept any agreement that further de-stabilizes jobs, and makes it more difficult to deliver the great services Toronto residents deserve and expect."
For more information, please contact:
Cim Nunn
416-627-7695
Katrina Miller
647-272-5024
Kevin Wilson
CUPE Communications
416-821-6641